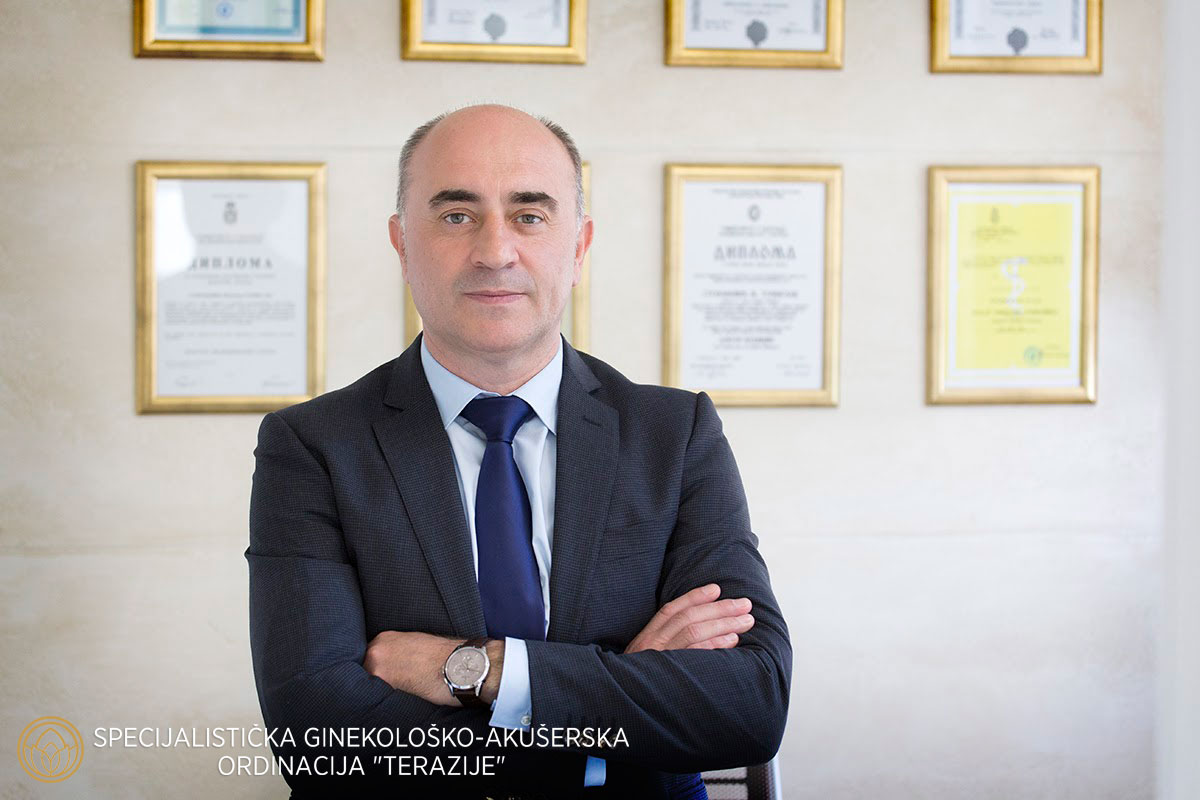 Name and surname: Prim. Dr. Sci. Med. Tomislav Stefanović
Date and place of birth: 24.03.1963. Šabac, Serbia
---
Work place and title – current position
Director of the Hospital for Gynecology and Obstetrics
Winner of the Civil Servant's Charter and special merits in the development of the city municipality "Zemun" and significant achievements in medicine
Acknowledgement for outstanding contribution and support to parenthood "Association Mother's Dream", Belgrade
Doctor of Medical Science, Belgrade Medical School
"Corelation of ultrasound indicators of fetal macrosomia and parameters of glycemic control in pregnancy"
Primarium, granted by the Ministry of Health of Republic of Serbia
Subspecialists, sterility and fertility, Belgrade Medical School
Master of Medical Science, human reproduction, Belgrade Medical School
Specialist in gynecology and obstetrics, permanently employed at the Hospital for Gynecology and Obstetrics CHC "Zemun", Belgrade
Professional experience
Twenty years of experience as a specialist and subspecialist of gynecology and obstetrics at the Hospital for Gynecology and Obstetrics CHC "Zemun", Belgrade
Work in childbirth and operation room, preforming conservative and urgent treatment of gynecologic patients, ultrasonographic diagnostic
Mentor specialists in gynecology and obstetrics
In 2018, he improved minimal invasive procedures in urogynecology during education in Slovenia. He possesses a certificate in the implementation of the method of incorporating a mini sling in the case of stress of urinary incontinence (uncontrolled urination).
Memberships
Serbian Medical Chamber and Sebian Medical Society
Publications
Author and co-author of numerous papers which are published in highly-indexed journals
Education and professional improvement
2018
19th International symposium, Association of Gynecologist and Obstetricians of Serbia, Montenegro, and Republic of Srpska, Banja Luka, Bosnia and Herzegovina.
26th European Congress Perinatal Medicine St. Petersburg, Russia
European Society of Human Reproduction and Embryology in Barcelona, Spain
2017
15th International Congress of the Association of Gynecologists and Obstetricians of Serbia, Montenegro and Republic of Srpska, Belgrade
European Society of Human Reproduction and Embryology, supported by the Slovenian Society for Reproductive Medicine Ljubljana Slovenia, ESHRE CAMPUS Reproductive medicine between science and commercialization
13th World Congress of Perinatal Medicine – WCPM 2017 for participants from Serbia and the region, in Belgrade
The 27th Annual World Congress in Vienna, Austria, ISUOG International Society of Ultrasound in Obstetrics and Gynecology
The 13th European Pediatrics Conference Prague, Czech Republic
2016
Genesis Athens Clinic, Center for Human Reproduction, visit and collaboration
Mediterranean Association for Metabolic Syndrome, Diabetes and Hypertension in Pregnancy "Degu"
Symposium of Novelties in Human Reproduction in 2016 with international participation
Symposium "Modern principles of leading pregnancy, especially complicated pregnancies followed by diabetes"
2015
IAKENTRO Clinic of In Vitro Fertilization and Genetics, Thessaloniki, visit and collaboration
Assisted reproductive techniques - current approach of gynecologists, Novi Sad, Serbia
Symposium Recent Advances in Human Reproduction, 2015 with international participation
2014
The first symposium of the mediterranean society for metabolic syndrome, diabetes and hypertension in pregnancy, Belgrade, Serbia
Controversies in preparation of patients for in vitro fertilization and follow-up of IVF pregnancies
Gynem Fertility Clinic, center for in vitro fertilization, visit and collaboration
2013
The 7th international DIP symposium, diabetes, hipertension, metabolic syndrome & pregnancy, held in Florence, Italy
The 18th World Congress on Controversies in Obstetrics, Gynecology &Infertility (COGI), Vienna, Austria
7th Diczfalusy award lecture symposium on reproductive health, Belgrade
2012
First category symposium "Innovations in BMPO categories"
Recent Advances in Human Reproduction with international participation
Symposium of regenerative and personalized medicine
2011
4th International symposium of regenerative Medicine, tissue and genetic engineering
Perinatal aspect of screening and diagnostics of congenital heart disease
2010
Continuous medical education: Good clinical practice
Laparoscopic diagnosis and therapy in gynecology
Regenerative medicine of European tendency
Current approaches to marital infertility - guidelines for gynecologists in the secundary health care
2009
Minimally invasive gynecologic surgery, Subotica
Course 3D/4D sonography with international participation
Marriage infertility symposium (current approaches to marital infertility)
2008
Primariat – Ministry of Health of the Republic of Serbia
Recent Advances in Human Reproduction, international participation symposium, Belgrade
Gynecological week, High Risk Pregnancy – Contemporary Gynecological Surgery, Belgrade
2005
University Medical Center Ljubljana, Slovenia Gynecological Clinic, Zaloška cesta 2, Ljubljana
He advanced in the field of IVF and endoscopic surgery at the University Medical Center Ljubljana, Slovenia
He participated on his own in many surgeries and procedures. Knowledge and operation skills, he got from Prof. Dr. A. Lukanovič, Prof. Dr. Tomašević, Doc Dr. Vogler, Prof. Dr. Helene Meden Vrtovec, Director of the Gynecology Obstetric Clinic in Ljubljana. After a month spent at the University Medical Center Ljubljana, for the first time after a long pause at CHC Zemun, I did my Vaginal Hysterectomy in my department, also I educated my younger colleagues, so that the surgery today is routine.
Continuous medical education called 'In vitro fertilization update' Faculty of Medicine, University of Belgrade
2004
Work on specialization, fertilization and sterility, Faculty of Medicine, University of Belgrade
Correlation of hysterosalpingography and laparoscopy in testing tubal patency in women with tuboperitoneal infertility.
2003
Master studies, Human reproduction, Faculty of Medicine, University of Belgrade
'The importance o determining serum betahorion gonadotropin, ultrasound and laparoscopy in early diagnostics of ectopic pregnancies'
Yugoslav Association for Endoscopic Surgery and Other Emergency Techniques
Continuous medical education of laparoscopic surgery with theoretical and practical teaching, Belgrade
1997
Specialist exam in gynecology and obstetrics, excellent grade, Specialist studies, Gynecology and obstetrics, Belgrade Medical School
A four-year specialization in gynecology and obstetrics was done at the Gynecology - Obstetrics Clinic "Narodni front", Belgrade
1996
Yugoslav School of ultrasound – obstetrics/gynecology, Kragujevac
1989-1990
State exam for a doctor of medicine
Probationer in General Hospital "Dr. Laza Lazarević" in Šabac
1989
Graduated from Belgrade Medical School, the title of Doctor of Medicine
1978-1982
Šabac Gymnasium, holder of "Alas" Physics diploma